Create an app that streamlines the process of planning what to wear and transforms what used to be a chore into something more enjoyable.
A digital product that allows users to visualize their wardrobe, plan their daily outfits, and request consultations from a stylist.
Watch the demo below.

I recommend viewing it on full screen

 for a better experience. Button is located on the lower right corner.
User Research.
I interviewed 6 women about their daily routine for choosing their outfits. I asked participants to walk me through their thought process and to tell me what were the key factors that guide their ultimate choice.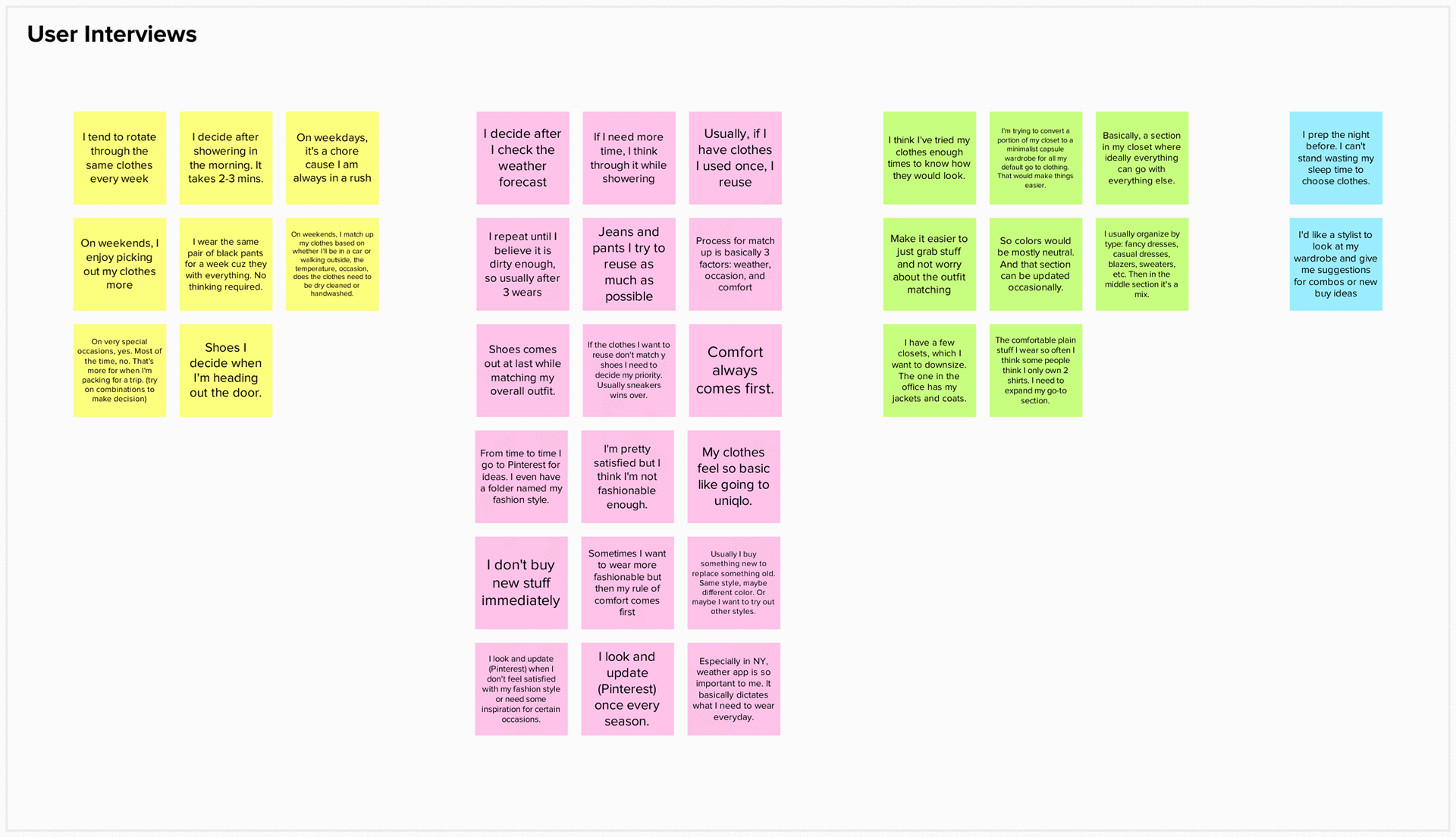 Synthesis.
I then identified and grouped the feedback received into themes using the KJ-method to organize my notes and insights. From this exercise, I came to realize that:
- Participants tend to make the decision in the morning
- Participants will spend 2-3 minutes on average to decide
- Participants rotate the same items throughout the week in different combinations to limit their  load of laundry
- Weather is a key driving component to determine their choice of outfit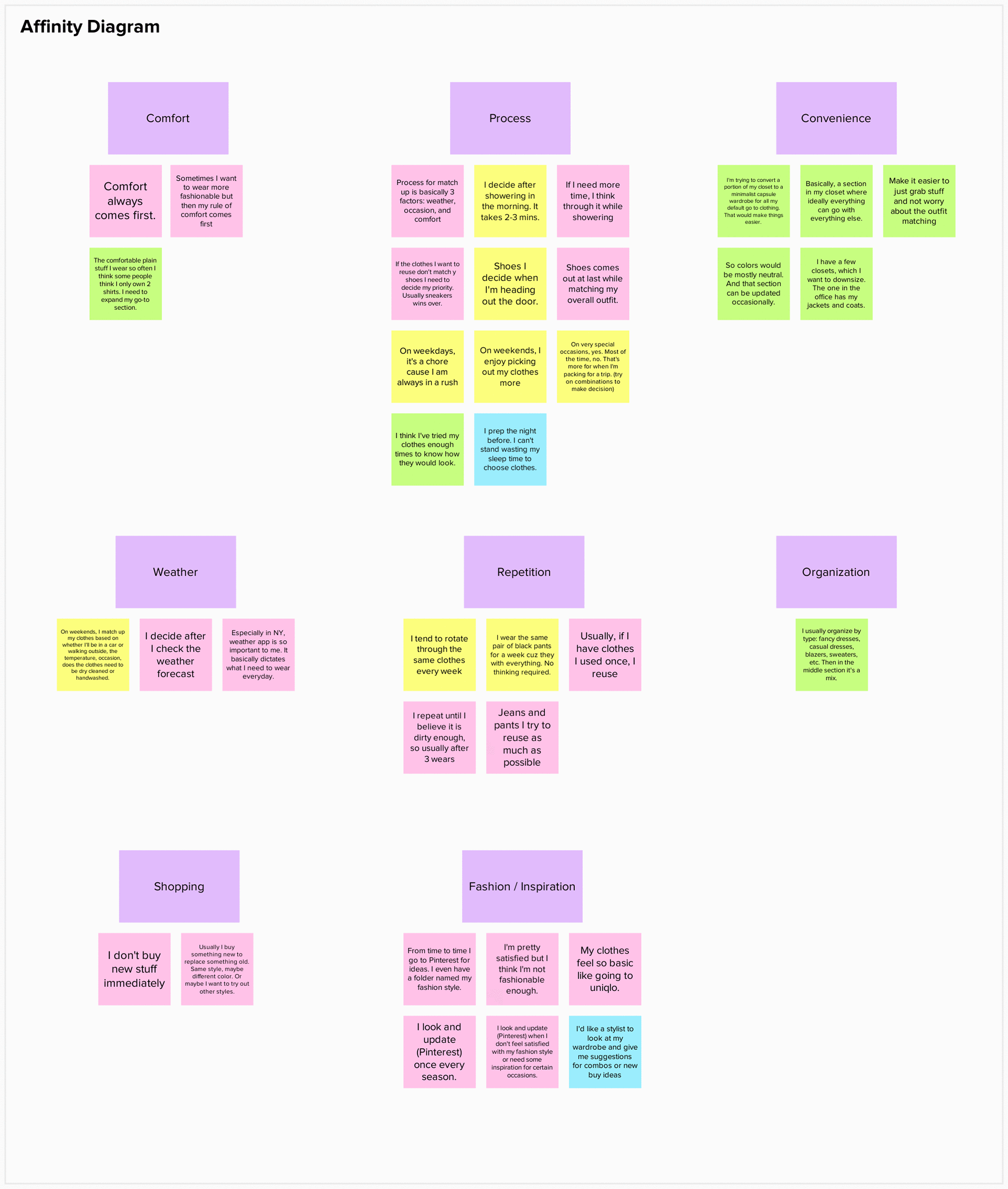 Ideation
. Based on the findings above, I decided to focus on the decision-making process and
how might I accelerate the decision-making process? 
 The top ideas that came up were:
- A system that let users visualize their whole wardrobe, and mix and match the same items throughout the week
- A calendar that helps users plan ahead and keep track of their outfits so they would know what to wear as soon as they open the app.
- Weather information should be included in the app to skip the process of checking other weather apps before picking an outfit.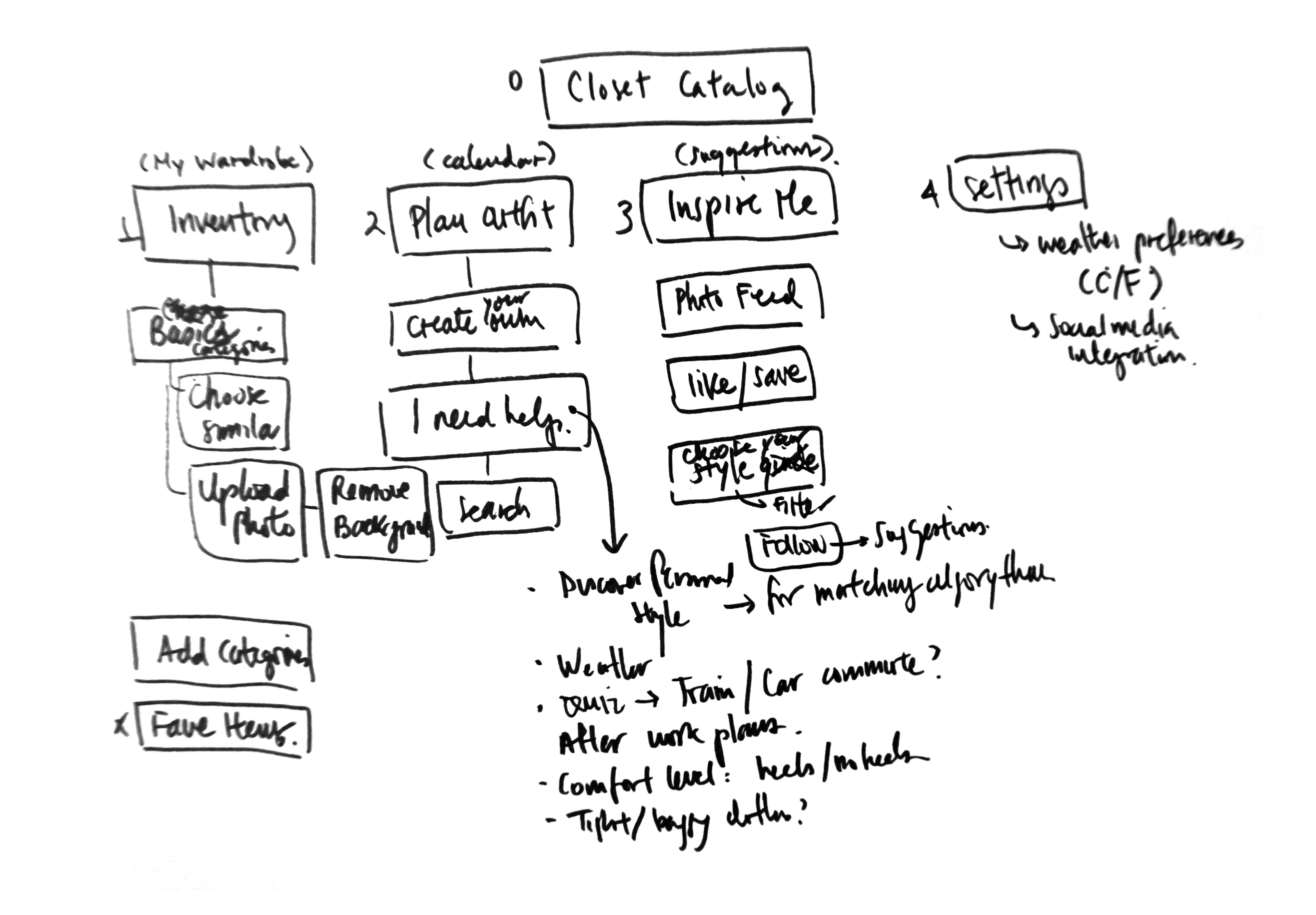 Benchmarking
. I analyzed some existing apps to discover what type of features are already in the market, and where I could find an opportunity for differentiation. From this research, I was able to find out that:
- There is a technology that allows users to easily take a photo of their clothing and remove the existing background. 
- Most apps offer inspiration ideas from other users and social media and are fashion-forward oriented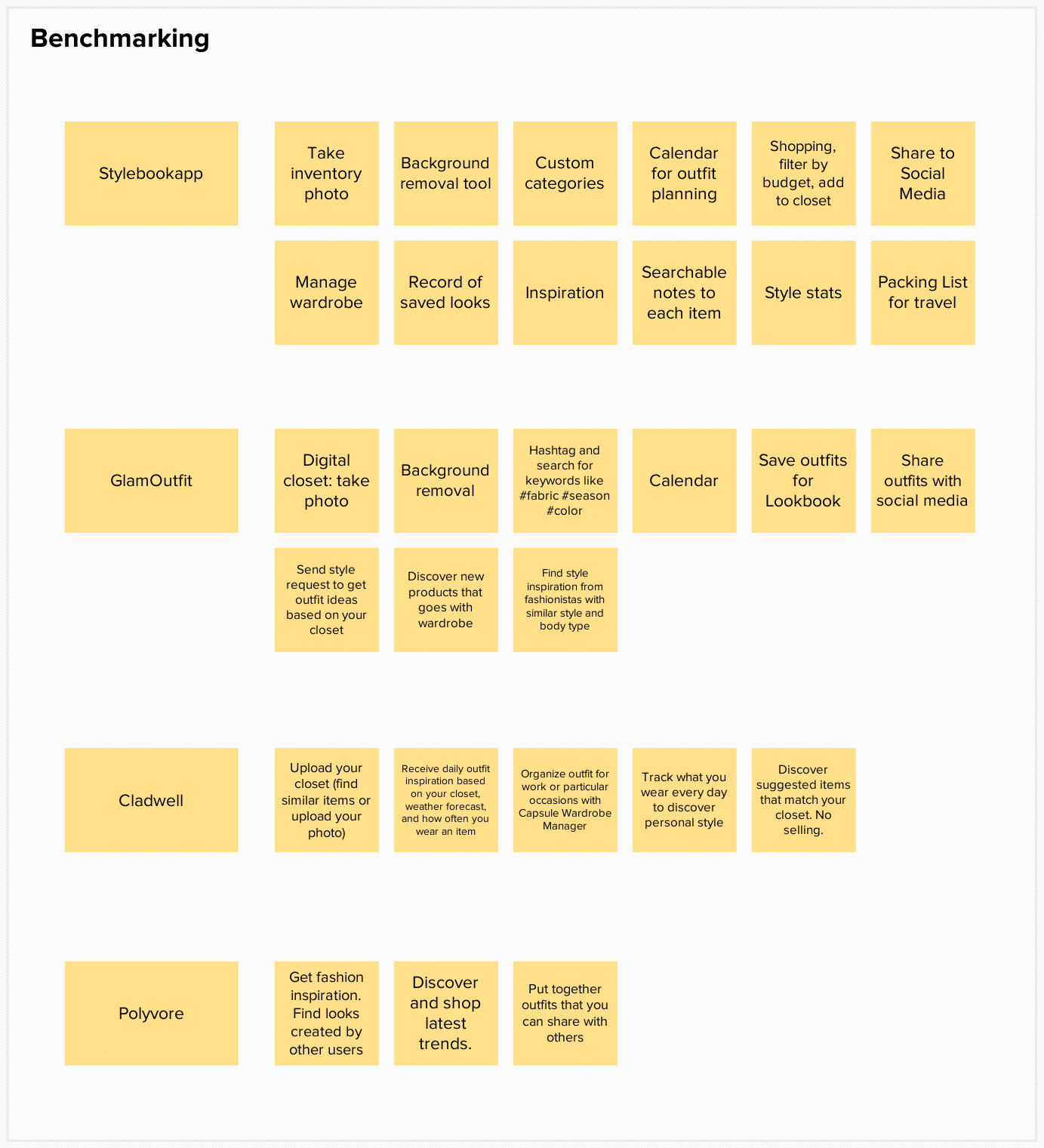 Approach
. Most products out there seem to focus on "Fashionistas" personas that are constantly looking for new outfit inspirations, latest trends and new buys. Thus, I decided to take the opposite approach: the
user archetype
I chose to design for centers on women that prioritize convenience and comfort, and choose quality over quantity. She is a smart shopper, and far away from being an impulse buyer. She only buys the items that she needs, that she is sure will match her closet and personal style, and that will last more than one season.
Prototyping
. Below are my early wireframing sketches drawn to test my ideas with target users. They were used for paper prototyping. Participants responded very well to the idea of incorporating  weather information, and of having access to their wardrobe on their phone to plan their outfits.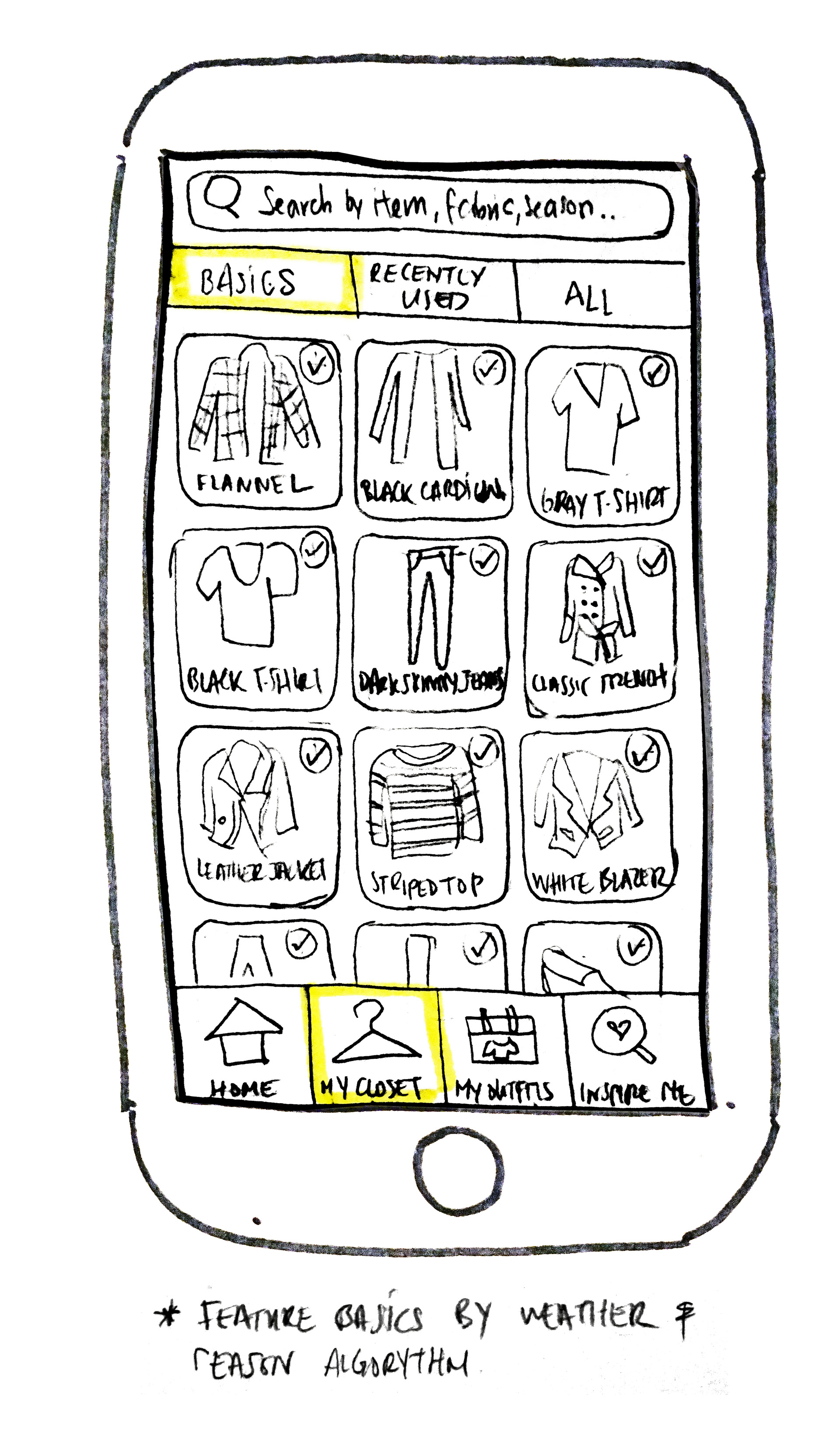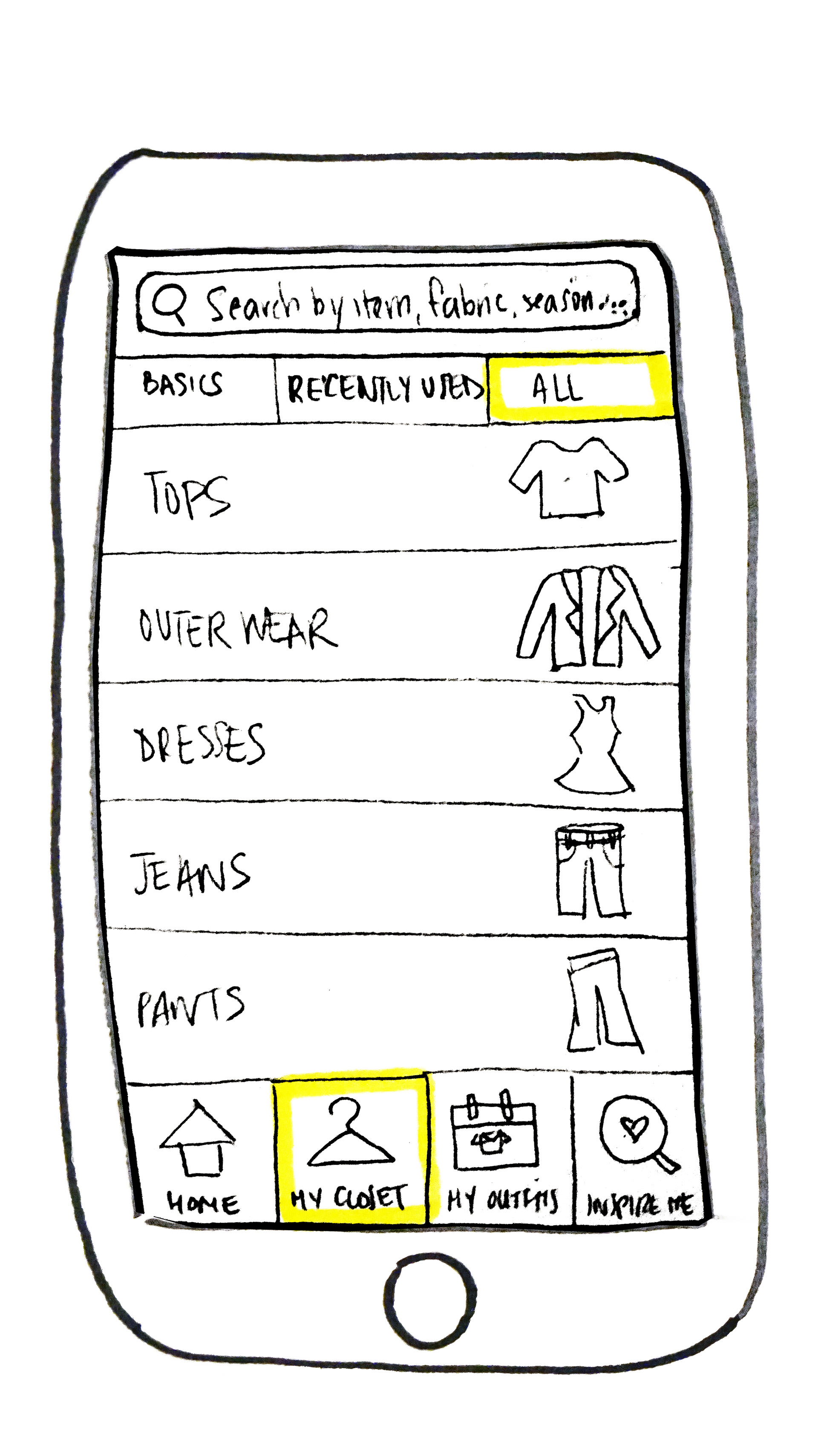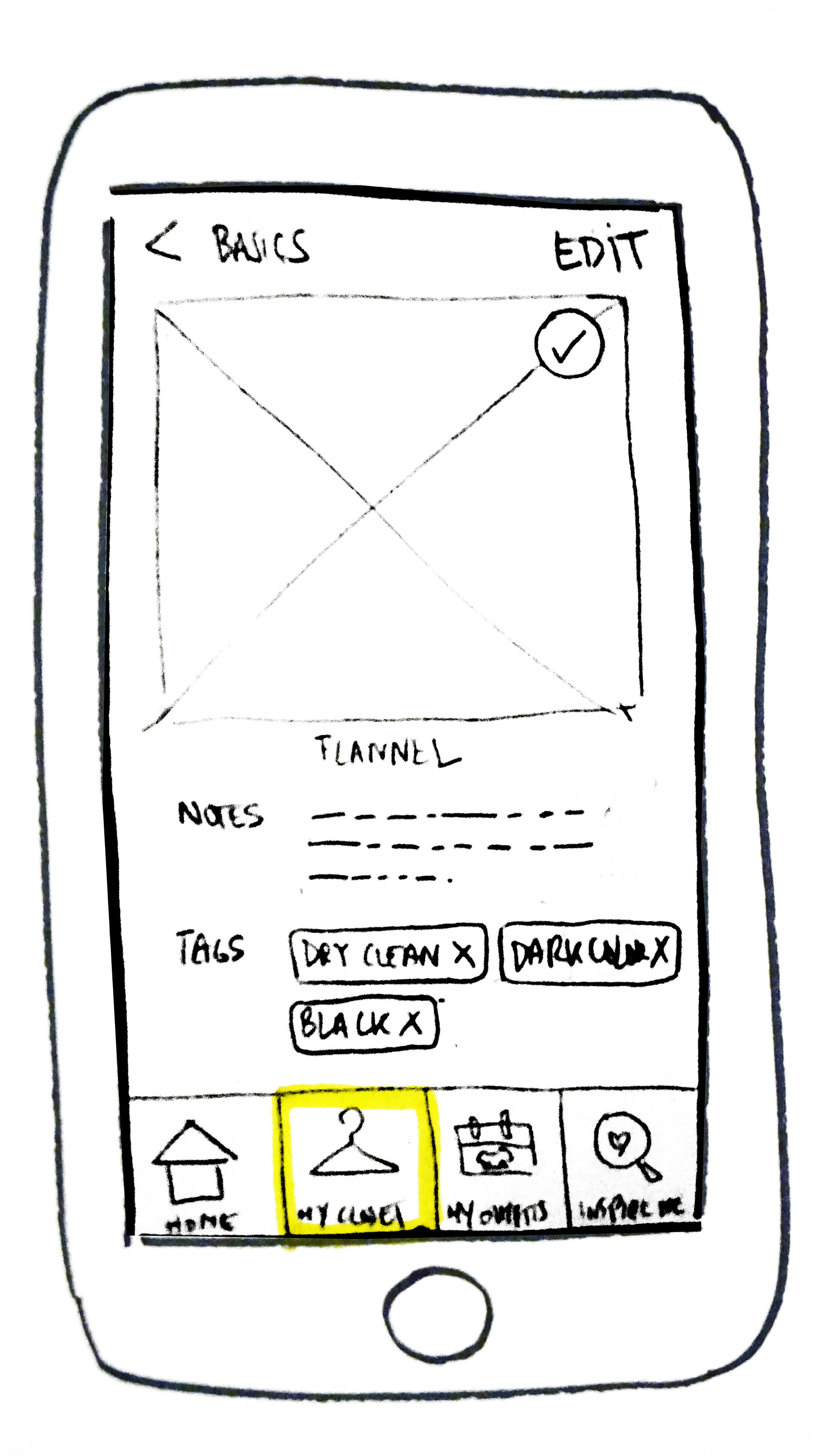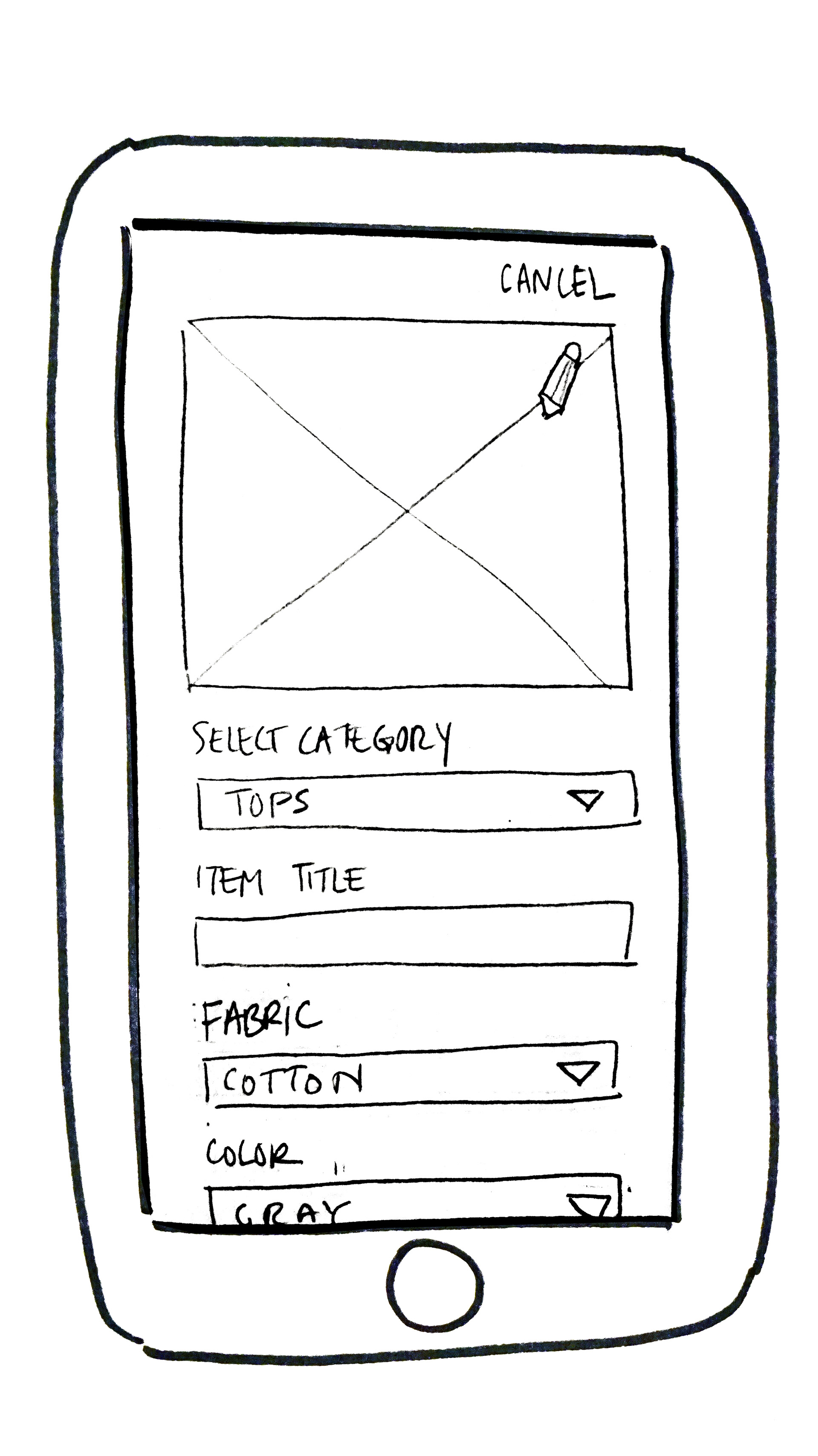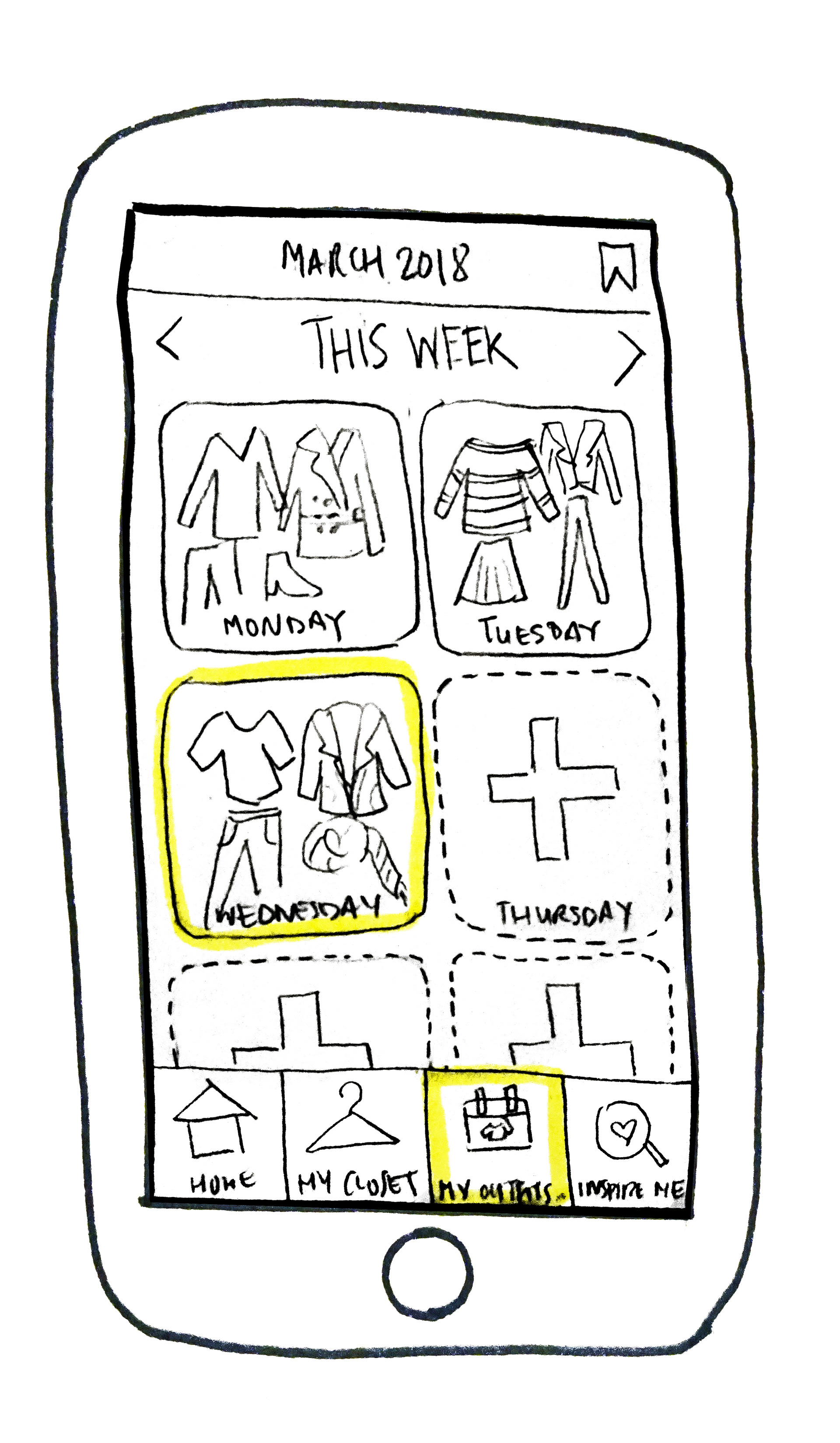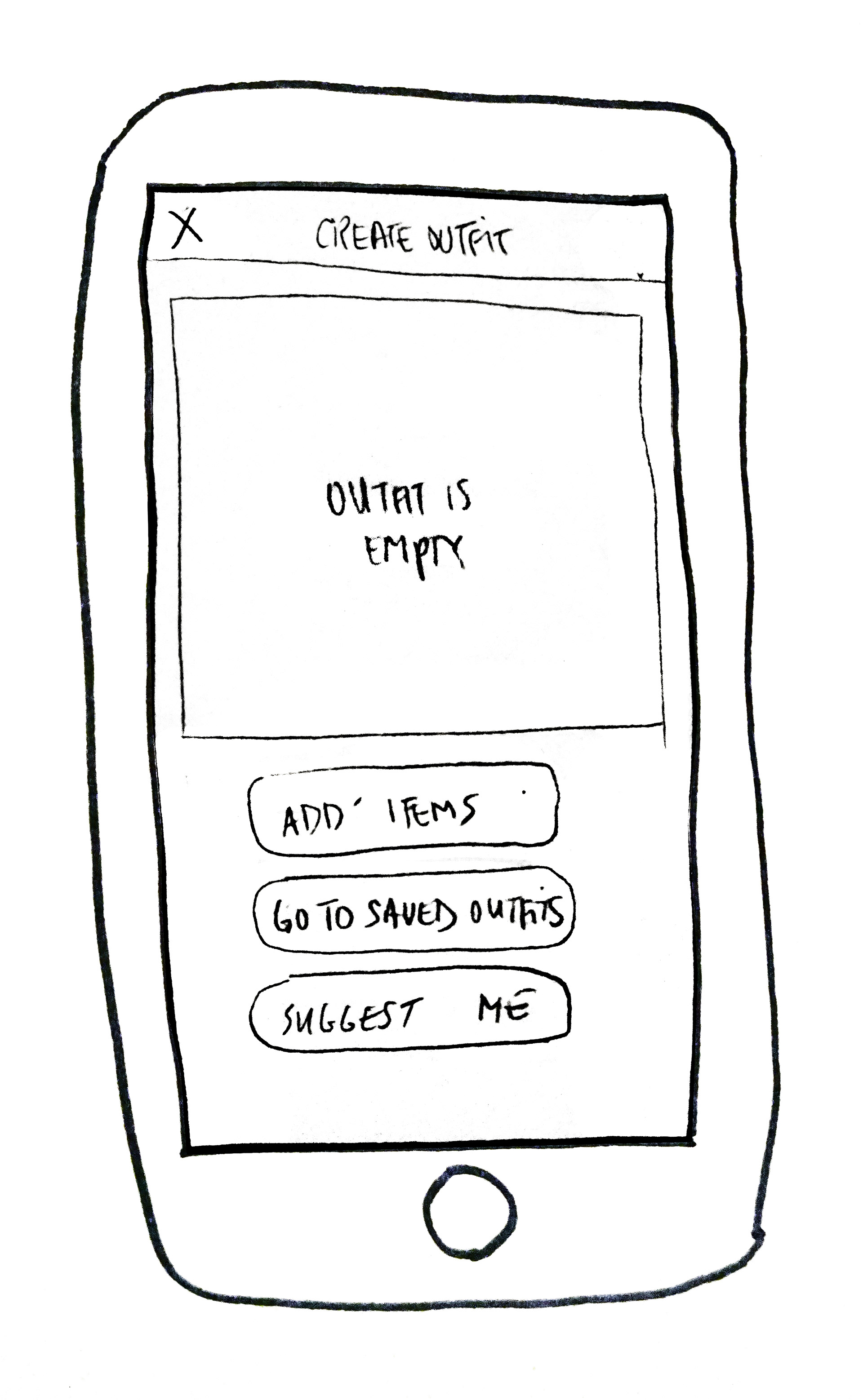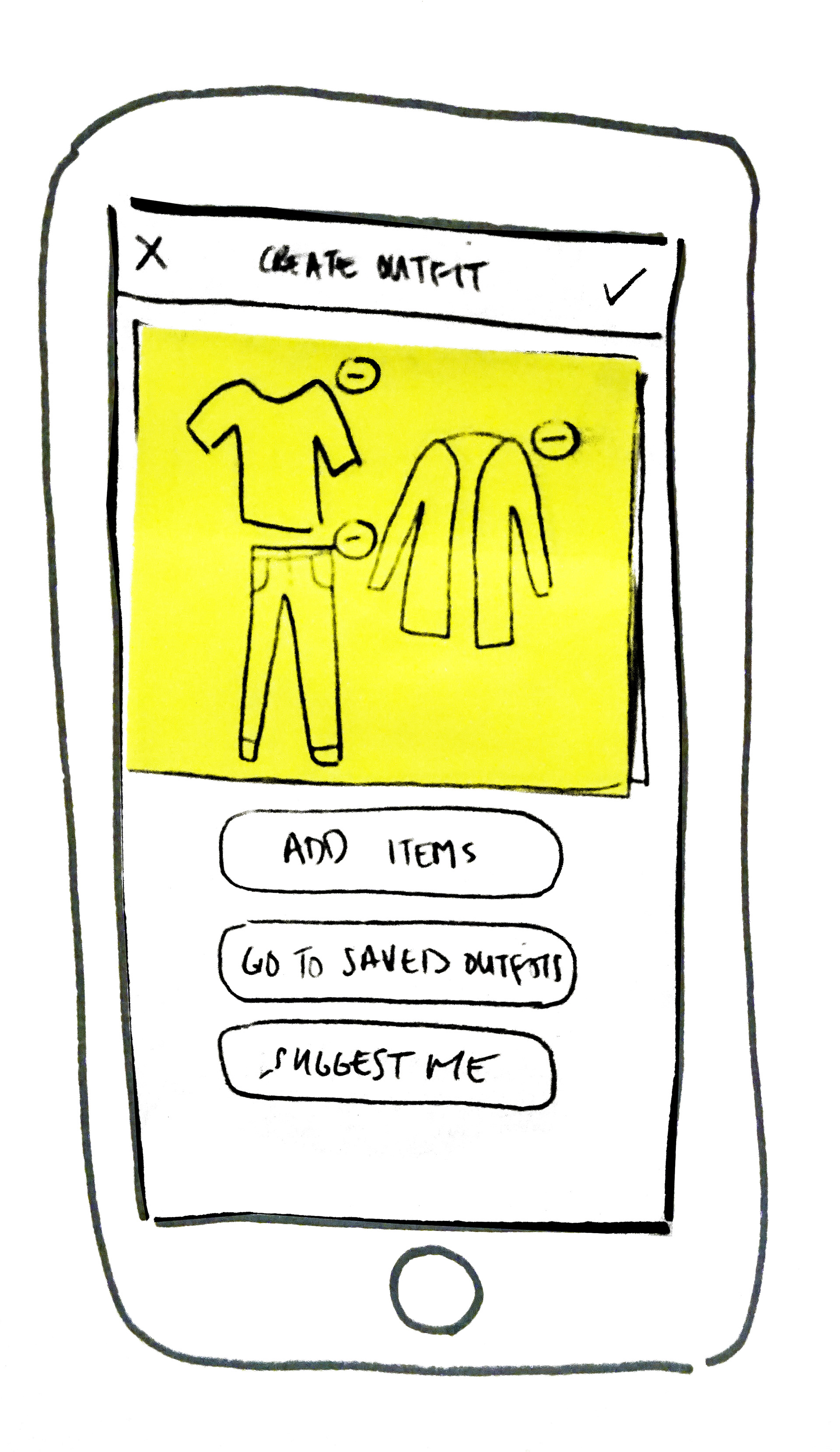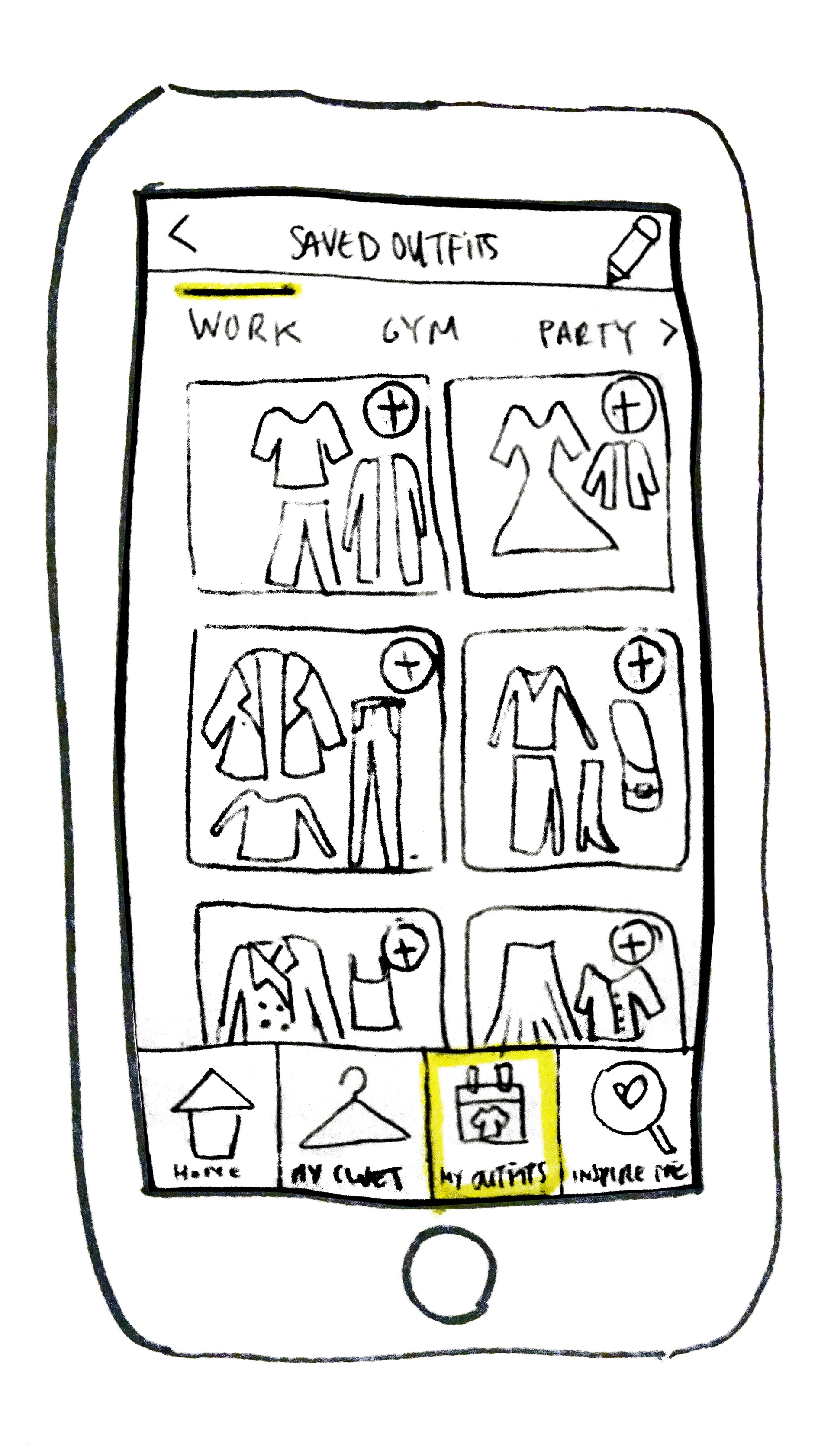 I also tested the idea of having a "suggest me" button that would prompt users to fill up a questionnaire that the app would then generate outfit combinations for users to choose from according to weather, occasion, and mood. I later decided to drop this idea because it seemed to take a longer time than expected for users to fill the questionnaire. It would also require a lot of intelligence for the app to learn the user's preferences and create combinations that they would like. 
I also found that the "inspire me" feature did not match my user archetype–the original idea was to let users follow fashionistas social media accounts to find inspiration ideas. I realized that my target users would not engage much on this type of behavior. I decided to replace this feature with a service idea: let users request consultation from professional stylists for a price. Once matched, users could share specific outfits or their entire closet with the stylist, and ask for matching ideas within their existing wardrobe. Stylists could also suggest new items currently available in the market that would compliment selected outfits within their budget.