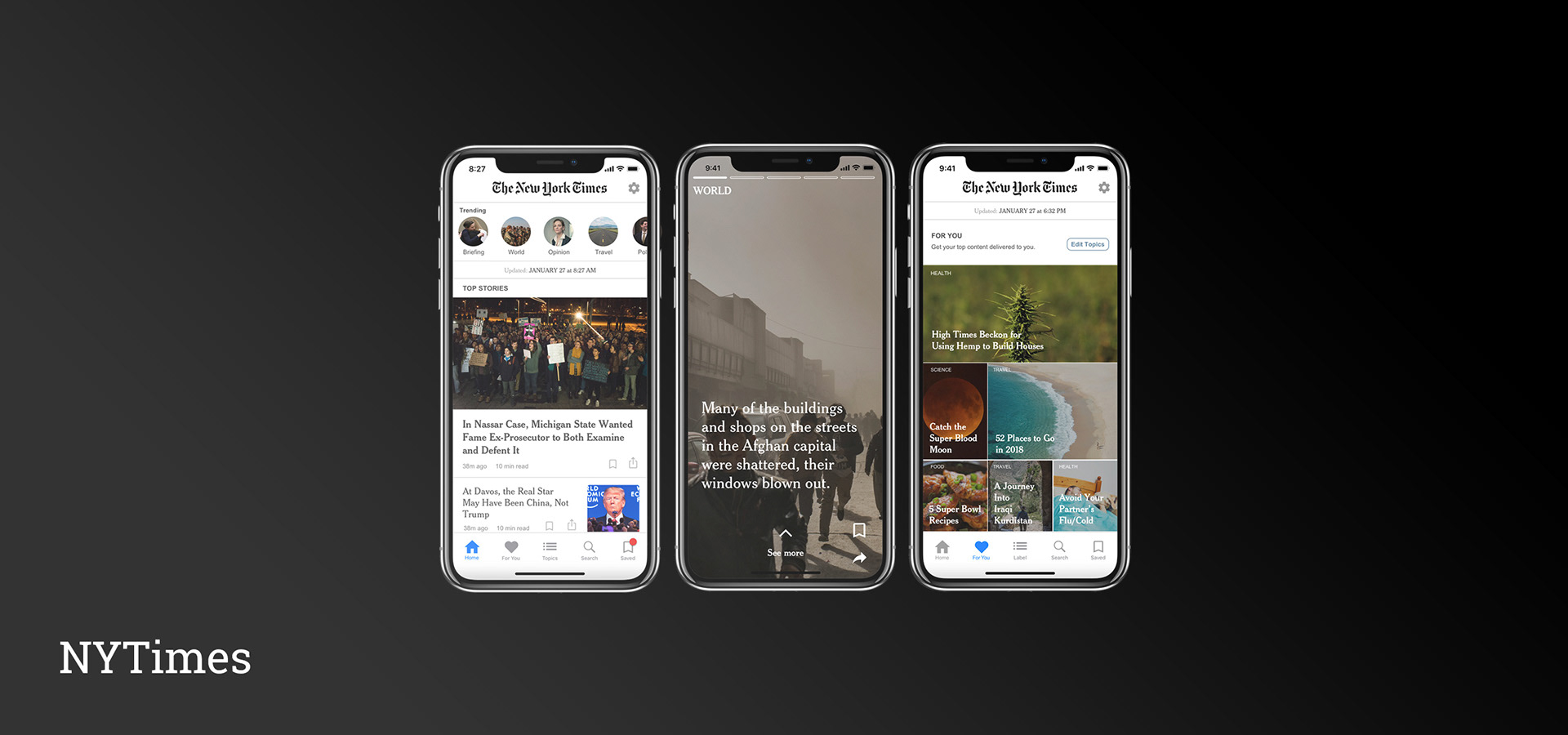 Increase engagement and retention of users of the NYTimes mobile application.
A new digital experience that responds to the NYTimes young readers engagement with news.
Role:

 Design Research, Strategic Planning, Interaction Design, Visual Design
Collaborators:

 Andrea Kang, Angie Ngoc Tran
Advisors:

 Renda Morton, The New York Times
Launch digital prototype here
The team interviewed users based on 4 main topics:
How they perceive the New York Times:

 The team discovered that most young readers see the NYT as a hard news source. This means that even though the NYT does offer lighter content which focuses on human-interest stories and lifestyle; they only expect to see content related to politics, economics, international relations, welfare, and scientific developments. Readers also felt that NYT articles have more comprehensive reporting than competitors.
Current reading news behaviors:

 Readers typically choose speed over credibility, wanting the latest information as quickly as possible.They don't mind having lighter and heavier content side-by-side because ultimately, they want to walk away with a more enriched life. For non-news readers, research shows that they primarily look for guidance and inspiration.
Current behaviors of using the NYTimes mobile app:

 Readers preferred real time top news on the home view and did not associate NYT with lifestyle content. Users use the home view to scan through headlines without paying much attention to the excerpt or images. They only tap to read the articles they are interested in. Non-subscribers simply Google the topic and find the information elsewhere to avoid hitting the paywall.
Pain points while using the App:

 Users felt the home view was simply a feed of top news and lacked context. Users weren't attracted to the story images even though they identified as visual people. Users also got overwhelmed with lengthy articles. They need visual cues to know how long an article will take to read. 
The team used paper prototyping to test initial ideas and assumptions. Two rounds of iterations were made before final presentation to the New York Times Product Design Team.
Trending stories:

short photo and video collections that are being mentioned a lot with topics that receive a dramatic spike in mentions, curated by the NYT staff.
Home view:

new UI that organizes Top Stories and Breaking News. Sections are well-defined and clearly labeled to allow for easier navigation.
 Reading time for articles is made visible.
​​​​​​​
Tab menu:

hamburger menu is replaced by a bottom tab menu for easier visibility and encourage users exploration.
For you:

new personalized section for users to browse lighter content. Ability to like or dislike articles is also added to improve users' news feed algorithm.